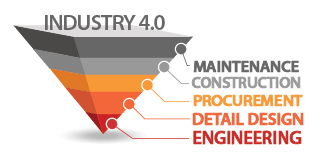 Crenger is a digital infrastructure for the online execution of desalination megaprojects. It covers bidding, engineering, detail design, procurement, construction, commissioning, and operation & maintenance. It turns bids into digital twins.
Crenger automates & digitizes business processes, adding ultimate transparency, 10X speed & quality. As a business platform, Crenger has 10X more time to engage employees than any off-work networks and to start eAd & eCommerce.
For original equipment manufacturers (OEM) Crenger creates hyper-connection to tenders, bids, and business requirements tracking.
Crenger extends far beyond the compound business space of such product groups as CAD P&ID, PLM, ERP, Project Manager, and business process management (BPM). "Crengineering" describes the step-by-step disruption of conventional project engineering and management.
It takes only 50 work hours to prepare the FEED package, full plant wiring, time schedule, technical and commercial offers for projects over $US 100 million. It takes no time to issue RFQs and prepare all purchase packages and orders.

Operation & Maintenance Digital Twin is now part of the FEED scope.
Download the technology executive summary.
How Does It Work?
Crenger has two parts - the web project browser and the project execution environment (PEX) - PlantDesigner. The first is primarily for those who only use the project information (managers, subcontractors, and customers). PEX is for the plant designers understanding the project inner workings and the project flow. Web navigation is simple and intuitive; working with PEX requires some skills.

Crenger in Action
More videos may be found here.