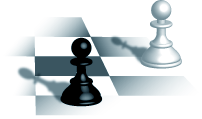 Latest studies have shown that business model innovation yields 25 times higher return on investments and 5 times higher operating margin growth compared to product or process innovation.
The term business model is defined herein as the chosen system of data inputs, business activities, and outputs that aims to create value. As engineering services providers create virtual values, any data processing software sets bounds on the business model evolution, which may eventually lead to losing the competitive edge.
CP is tailored to the following core business model.
Business is internet-centered; any part of it may be executed remotely around-the-clock.
The notion of project is extended to the project lifecycle. Main product is life-long services, not hardware – piping, instrumentation, pumps or membranes.
Only process projects are covered. At present, these projects are limited to desalination and water treatment. Other nearest types are oil and gas and chemical ones.
Business is focused on re-use practices - unification and standardization.
Business is volatile, any part of it may be outsourced except for FEED – front-end engineering and design.
Business is based on global virtual engineering; the project team is temporary and best selected for the project duration.
Business hierarchy is flat; the member of the project team is fully responsible for global decisions (minimum level of responsibilities delegation).
Business activities are fully transparent to the client – highest level of trust and confidentiality, the client being part of the project team.
Business is extended to B2B advertising and commerce
Business is merged with social platform
By many experts, this model will dominate in 5 to 10 years in technological companies.
Competitive strategy is concerned with doing things better than rivals do. There are three known ways of being competitive.
Full FEED & FEM (front end management) during bidding
Internationalization, i.e. moving engineering to India, China, or Central America (global virtual engineering)
Products diversification.
Unlike FEED, the FEM concept is new; CP includes in its scope the project schedule, the scope of outsourcing, the cancellation charges curve, identification of the project parts subject to the price indexation, and the project price adjustment equation.
FEED & FEM are the only way to decrease the project risks and avoid guesswork at the project costing, to negotiate project delivery times and penalties. They are rarely done in practice due to shortening times for the project offer submission - a tendency gaining momentum , and constrained engineering resources the EPC contractor may allocate on demand for bidding.
© copyright crenger.com